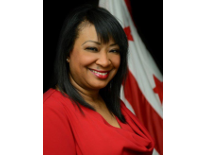 Kimberly A. Bassett is the former Executive Director of The Wireless Foundation, the philanthropic affiliate of CTIA-The Wireless Association. In this role, she was responsible for the Foundation's charitable programs that enhance America's communities through wireless technology. In this position, she helped to launch an unprecedented public-private partnership, text4baby, a free mobile health service for expectant mothers. This award-winning initiative, involving stakeholders from the White House to community health workers across the country, demonstrates the wireless industry's commitment to giving every child a chance at a healthy start and a safe and nurturing environment in which to grow. In addition, she launched the first wireless safety cellphone game, BeSeen. She also worked with two of the nation's most underachieving school districts (New Orleans and Washington, DC) to launch an app empowering parents to research their children's schooling options
Ms. Bassett joined The Wireless Foundation after having served as Director of External Affairs for Verizon Washington, DC, where she was responsible for community engagement, government relations, employee advocacy and management of the Verizon Foundation. Prior to Verizon, she was the Director of Programs for DC Vote, an educational and advocacy organization dedicated to securing full voting representation in Congress for the residents of the District of Columbia. She worked as the Director of Programs and Partnerships for The Stephen Case Foundation (AOL), an initiative to bridge the digital divide in underserved communities. She served as a presidential appointee in the Clinton Administration under U.S. Secretary of Education Richard W. Riley, in the America Reads Challenge, a four-year national campaign to promote the importance of all children reading well and independently by the end of the 3rd grade.
In her spare time, Kimberly serves on the boards of the Step Afrika! Dance Company, the North Carolina Central University College of Arts and Sciences and Congressional Black Caucus Foundation Corporate Advisory Council. She is also an active member of Twelve Days of Christmas Inc. and Delta Sigma Theta Sorority Inc.
Ms. Bassett holds a Bachelor of Arts from North Carolina Central University and a Master of Arts from North Carolina A&T State University.