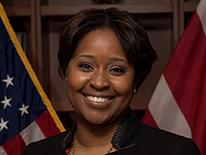 Jennifer L. Porter was appointed to serve as Executive Director of the Mayor's Office on Women's Policy and Initiatives (MOWPI) by Mayor Muriel Bowser in February of 2019. In this role, she serves as the Bowser Administration's chief advocate for women and women's issues in Washington, DC. As Director, Jennifer collaborates with local and national nonprofit organizations and public agencies to address the needs of women. Mrs. Porter advises Mayor Bowser on women's policy and areas of need for women initiatives.
Director Porter holds a degree in Biology from Howard University; a Masters of Public Health from The George Washington University, Milken Institute, School of Public Health and is a Master Certified Health Education Specialist. Prior to her appointment Jennifer led a public health career in government relations and adolescent health advocacy at Children's National Health System. In that role she advocated for legislation, health policy and community resources that improve the health and wellbeing of our nation's youth. As a clinical researcher Jennifer's research focused on a range of adolescent sexual health issues including: economic influences of medical adherence for HIV positive adolescents, structural barriers to HIV prevention for youth and pregnancy prevention outcomes.
Mrs. Porter has held a number of volunteer leadership positions in local, regional and national community service organizations that support and empower women. She served as chair of the District of Columbia, Commission for Women; and serves on the National Policy Advisory Group for Girls Inc and has served on the planning advisory committee for the National Health Policy Conference. In her spare time she is a lecturer at The George Washington University, Milken Institute School of Public Health. Jennifer is a volunteer trainer for the American Association of University Women's (AAUW) Women's Wage Negotiation training program and trains local women on tips and strategies to fight for economic equality and professional development. Jennifer is an active member of Iota Phi Lambda Sorority, Inc. for Business and Professional women and the Metropolitan, DC Chapter of The Links, Incorporated.
Jennifer's excellence in service and professionalism has been commended being named an AcademyHealth 2017 National Population Health Scholar. Jennifer was recently named among the National Minority Quality Forum's 2018 National 40 under 40 Leader's in Minority Health. Jennifer is proud to live in Ward 5 of Washington, DC with her husband André.